"My PB "
by Noel Paddock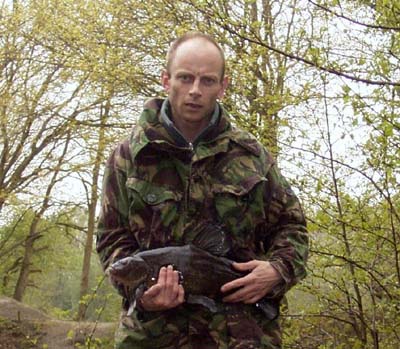 I used to fish some gravel pits in Frimley when I was a kid in the late seventies early eighties, alas its now been filled in and has a shopping complex and macdonalds there instead. Anyway I always loved catching the tench, just something about them.

I say used too, because 1985 was the last time I fished anywhere....like lots of kids I discovered girls and going out and consequently had no time to fish......until now.
In March I decided I wanted to take up fishing again and at the start of April visited my local tackle shop and bought what I needed.

So pretty much twenty years later im back on the banks of the local gravel pits.........
I new the pit I was gonna fish doesnt get much bait chucked in ever, so over this last month thats what ive been doing, whilst practising the fishing skills that I always did as second nature as a boy.... I got the bug back straight away with a few smaller tench and lots of bream and suffice to say visited the tackle shop and emptied my wallet again.

On one of many visits to the pit this month (April) I caught a 15lb Pike, so here I was only a few weeks into fishing again and getting more confident each time.
On Saturday 30th April at 7.45am approx I struck into what I knew instantly was a good fish, after a good fight I had him on the bank.... a Tench and a big one........almost as big as my smile.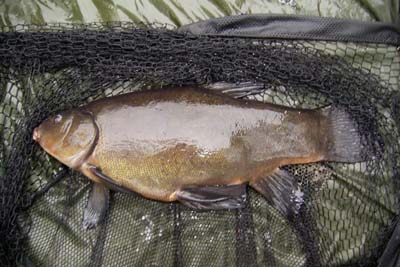 Into the weigh sack and onto my brand new scales.....8lb exactly.
A few pics later and hes back in the water.

Now the really annoying bit, id beaten my society waters record by 8oz which I hadnt realised until afterwards...... I didnt get it verified and therefore its unofficial but I did get my scales checked by a comittee member on the way home, who was fishing near the car park and they were correct, so thats good enough for me.

I knew it was a good size fish but was kind of unsure*(forgotten)* what to exactly do, especially as I had no keepnet.

Suffice to say it wont happen again....

So here I am 4 weeks later and a fully paid up member of the speciman Tench gang....my how the Tench have grown over the years.

Anyway you can be sure im now hunting those bigger female tench that are I know are in there waiting for me....

Noel Paddock - May 2005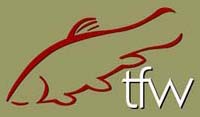 © Tench Fishing World 2008